Extensive global access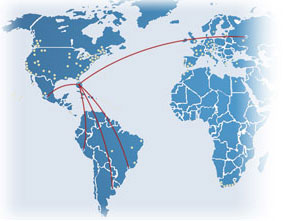 Since first opening our doors in 1896 and 1911, Douglas Elliman | Knight Frank have become the world's largest privately-owned global property network. Such longevity is testament to the experience, knowledge and relationships we have developed over the years with each other, ensuring all of our client's property needs are met.

- 1.5 Million Clients Within Our Database
- 28,500 Agents Worldwide
- 595 Offices in 60 Countries
- 15,000 Affluent Individuals Profiled in Our Wealth Report

OUR EXPERTISE
At Douglas Elliman | Knight Frank we build long-term relationships, which allow us to provide personalized, clear and considered advice on all areas of property in all key markets. We believe personal interaction is a crucial part of ensuring every client is matched to the property that suits their needs best. Headquartered in London and New York and operating in locations where our clients need us to be, we provide a worldwide service that's locally expert and globally connected.
GLOBALLY CONNECTED
Our global network comprises of over 584 strategically placed offices, ensuring that we offer coverage of the key property hotspots and our network is constantly evolving in tandem with the market as it develops. Our agents from each office work seamlessly together making sure that our clients get a joined-up approach no matter where you are looking to buy or sell.
SELLING YOUR PROPERTY
No two properties are the same, that's why we tailor our service to meet your individual needs. It's our personal, carefully considered approach which convinces thousands of homeowners to place their property on the market with us. While our size inspires confidence and our global presence draws in overseas buyers, we have unique ways of working locally that give us an edge over our competitors, none of whom can offer such a wide range of property services.
VALUABLE LOCAL KNOWLEDGE
With experts in your local area who can help with all of your property needs, we understand all factors that contribute to the property market. Our market appraisals are based on hard data and in-depth local research. Our agents are up to date on the everchanging local environment, such as movement of people and businesses that will influence the value of your property.

The Douglas Elliman| Knight Frank and associate offices form part of a global network of over 584 offices spread across more than 61 countries. With a growing international interest, we have established teams in EMEA & APAC working seamlessly together to help find the perfect buyer.