Luxury Real Estate April Market Report
The luxury real estate market is constantly changing, and in light of the COVID-19 pandemic, many buyers and sellers alike are questioning the impact of the economic situation on that market. Times are changing, but the actual effect of the coronavirus lockdown on the luxury real estate market remains to be seen. The Institute for Luxury Home Marketing puts out a market report each month, and according to the latest report from April, the market is still in a better position than most people expect
In our newsletter this month, we'll take a little more of an in-depth look at this report and explain some of the findings, as well as provide you with valuable insights. We'll discuss the potential impact of COVID-19 on the luxury real estate market, as well as how the future of real estate transactions may be changing in light of recent events and the benefits of virtual real estate
The Year Ended, and Began, on a High Note
The April Luxury Market Report covers statistics and real estate trends on a month-over-month basis, along with providing statistics on 13-month trends and insights. This report shows that despite many concerns, the luxury market actually didn't show much slow down during the first quarter of 2020. In fact, when compared to the same time in 2019, the numbers are actually higher in many cases.
The last quarter of 2019 saw a huge rebound in the luxury real estate market, which carried it through the end of the year and into 2020. The streak continues, with demand increasing for both single-family and attached luxury properties, despite the uncertainty of the current economy.
According to Danielle Hall, Chief Economist for Realtor.com, "A low-interest-rate environment combined with a flourishing economy and record-setting stock markets pushed luxury sales into the double digits for the first time as 2019 came to an end."
The Impact of COVID-19 Has Yet to Be Seen
The latest market report cannot offer much insight as to the true impact of the coronavirus pandemic, and while the Institute for Luxury Home Marketing acknowledges that there will surely be some type of effect on the luxury real estate market, the numbers have yet to show much sign of slowing down, so there is little to report at this time.
Experts had predicted inventory drops of 30-35% through the month of April, there are actually few signs of panic, with property prices remaining steady and no buyers looking to panic sell just yet. Many transactions are moving forward without hesitation and the market seems to be holding its own, thanks to the slight pause that gave everyone the chance to assess the best way to approach real estate transactions in a quarantine economy.
How the Corona Virus Epidemic Will Change the Future of Business Transactions
If there is one thing that has been learned from this horrible tragedy, it is that thanks to modern technology, the way that we do a lot of things can change, and probably for the better. It's being proven day in and day out that people CAN work from home, children CAN be educated remotely, and people can even shop for and purchase real estate from a distance, thanks to virtual showings and electronic documents.
According to Diane Hartley, president of the Institute for Luxury Home Marketing:
"The demand to stay at home hasn't stopped the sale of properties, rather it seems to have given homeowners and realtors the time and opportunity to reassess; resulting in a better understanding of how to adjust, learn, and then make the appropriate changes during this fluid situation."
Even just a decade ago, a crisis like this would have caused the entire luxury real estate market to shut down. It might have even affected the entire industry, and it could have been disastrous. Thanks to the Internet and other technological advancements, the industry has not only been able to continue but to thrive in a whole new way of doing business that is more convenient and more accessible for everyone.
The Benefits of Virtual Real Estate Transactions and Services
Doing something as seemingly "regular" as shopping for a new house can seem like it's a trivial matter given the state of the world, but right now, it is anything BUT trivial. In fact, the fact that people are still buying homes, despite the pandemic, shows that the market is in a much better place than it was even a decade ago. Not only that, but as mentioned above, it may very well be setting a precedent for the future of many (or all) real estate transactions.
Right now, people are relying on virtual showings, video conferences, digital documents, and other Internet and technology resources to continue their luxury house shopping. A lot are realizing how much more convenient and accessible it is to do everything online. There's definitely still something to be said for actually seeing and inspecting a house in person, but there's also a huge benefit in taking care of 90% of your luxury real estate transaction online.
Virtual transactions and services also provide more transparency and will offer a deeper level of information and insight than you would get from just going to look at a luxury condo and trying to remember everything that you saw. What started to become a standard due to situational events is now being considered as a potential "new normal" for the luxury real estate market, and these are just a few of the biggest reasons why.
Take Advantage of Technology

With the Internet, you have luxury real estate listings at your fingertips, day and night. The growing demand for luxury properties in some cities is also changing the game, creating a need for more resources and better technology to facilitate these transactions. If you are in the market for a new luxury property, there is no better time than now to find a place to call home. Check out the properties available and get in touch to learn more about them. Take advantage of the technology at your fingertips to enjoy a convenient, connected luxury home buying experience.
NEW EXCLUSIVE LISTINGS - GREAT DEALS!
EXCLUSIVE LISTINGS marketed by the Lana Bell Group. We use some of the most talented videographers and photographers to help us showcase our properties in a unique way.
SOTHEBY'S Exclusive Listings marketed by the Lana Bell Group.
Our team works with top pre-construction developers to present the best investment opportunities and developments in the area.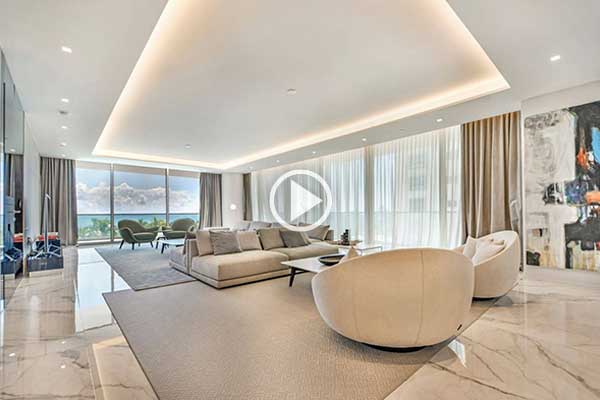 Oceana Bal Harbour #401S
10201 Collins Ave, Bal Harbour
Offered at $6,900,000
4 Bedrooms • 6 Bath • 1 Half Bath
Living Area 4,185 Sq. Feet
More details here
Turnberry Ocean Colony #2204
16051 Collins Ave., Sunny Isles Beach
Offered at $3,599,000 - $11,500/month
4 Bedrooms • 6 Bath • 1 Half Bath
Living Area 3,735 Sq. Feet
More details here
Turnberry Ocean Colony #2903
16051 Collins Ave., Sunny Isles Beach
Offered at $2,895,000
4 Bedrooms • 4 Bath • 1 Half Bath
Living Area 3,480 Sq. Feet
More details here
Turnberry Ocean Colony #1401
16051 Collins Ave., Sunny Isles Beach
Offered at $2,495,000
3 Bedrooms • 4 Bath • 1 Half Bath
Living Area 2,772 Sq. Feet
More details here
Turnberry Ocean Colony #PH3501
16051 Collins Ave., Sunny Isles Beach
Offered at $2,330,000
3 Bedrooms • 4 Bath • 1 Half Bath
Living Area 2,772 Sq. Feet
More details here
Paramount Miami Worldcenter #4501
851 NE 1 Ave., Miami, Florida
Offered at $1,390,000
4 Bedrooms • 4 Bath
Living Area 2,320 Sq. Feet
More details here
Monad Terrace condominium residences are designed by Pritzker Prize Winner Jean Nouvel. Each unit will capture natural light with floor-through views of the bay and beyond. The naturally filtered lagoon and the beautiful native landscaping flows through the property, creating privacy and character to
Inspired by the celebratory character of the Brazilian lifestyle, 57 Ocean brings Tropical Modernism to Miami Beach. The undulating wood-and-glass structure, embraced by lush foliage, blends harmoniously with its surroundings on the Millionaire's Row section of Collins Avenue.
Legacy Hotel & Residences
Legacy is both luxury hotel and residential tower featuring 274 branded residences sitting above a 256 room hotel. Just a short distance from Brickell, South Beach, Wynwood, Design District and Little Havana, Miami Worldcenter truly puts you at the center of it all. Legacy Hotel will be one of downtown Miami's only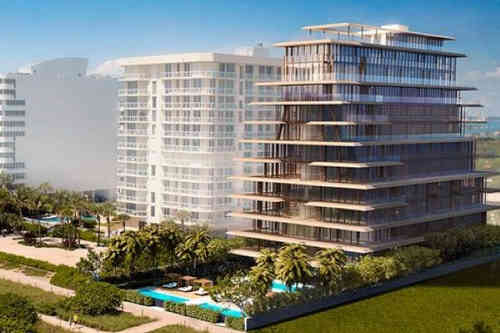 Arte by Antonio Citterio condominium will offer only 16 luxury condominium residences, beginning in size of approximately 5,500 square feet under air and larger. Expansive balconies will add to the large living spaces. Based on the building size and number of residences it appears that most floorplans will
18288 Collins Avenue, Suite #1
Sunny Isles Beach, FL 33160
Phone: 305.336.0457
lana@onesothebysrealty.com